Paul Ferguson established the Workshop in 1978 after five years studying design at art school followed by a further five years training as a wood carver in the West End of London at the Paul Levi Studio, picture framer extraordinaire, under the guidance of master carver Edward Desave. In 2012 the Workshop became incorporated as Fine Wood Carving & Gilding Ltd.
Paul undertakes extensive restoration/conservation work that entails conservation reports, analysis, proposed treatments, and method statements followed by final reports including photographs of works during progress.
New projects are also welcomed. The knowledge gained on the numerous and varied projects completed over the years enables the Workshop to offer new works to the highest standard, whether it be a traditional design or a totally new concept. Consultation followed by sketches and CAD drawings being produced as necessary.
Contracts have been carried out for a wide variety of clients, ranging from royal palaces, stately homes, government buildings and public museums to architects, antique dealers, interior designers and private individuals.
Paul Ferguson ACR gained accreditation with the Institute of Conservation in 2007 and the Workshop continues to be listed on the Conservation Register.
Paul Ferguson has been elected Honorary Secretary of the Masters Carver's Association (MCA) annually since 1992. Between 1999 and 2001 he was also elected President of the Association, the only time in the Association's long history, established in 1897, that the membership have voted the two positions to the same man.
Paul is chair of the National Working Group for carving and under the auspices of the Construction Industry Training Board (CITB). The group has developed the National Occupational Standards (NOS) for wood and stone carving. The MCA is presently progressing in establishing a Vocational Qualification (VQ) that will enable the setting up of an apprenticeship scheme for both wood and stone carvers.
Paul is proud to be a Freeman of the City of London by redemption and a Liveryman of the Worshipful Company of Turners.

Accredited Member of the Institute of Conservation
Member of the Master Carvers' Association

Liveryman of the Worshipful Company of Turners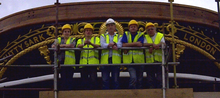 T

HE
P
AUL
F
ERGUSON
W
ORKSHOP
F
INE
W
OOD
C
ARVING
&
G
ILDING Ltd